Jiffy Lines Adjust in a Jiffy!!!
Jiffy Lines are Super Fast and Easy to adjust Sand Volleyball Court Boundary Lines
that are Always the Correct Dimensions and NEVER have any Slop!
Quickly and Easily go from Big Court to Doubles Short Court (and vice versa) in a Jiffy!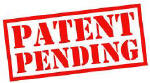 Black
Jiffy Lines
$109
FREE SHIPPING

(Bungee Sets NOT Included)
(Don't forget to order Adjustable Bungee Sets)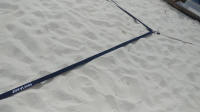 Non-Adjustable
Short Court Lines
(Constant 16' x 8')
(Made to order.)
(Please allow 2 weeks processing time.)
$75
FREE SHIPPING

(Bungee Sets NOT Included)
Adjustable BUNGEE SET
$13
FREE SHIPPING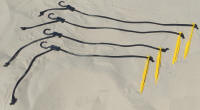 These Adjustable Bungees eliminate the need to add bungees after adjusting your court to the smaller short court.

Adjustable Bungee Sets come with the following:
4 x Mounting Stakes
4 x High Quality Bungee Cords
4 x Adjustable Bungee Hooks

Note:

When your Bungee Cords wear out, do not throw away your Adjustable Bungee Hooks or Stakes. You can reuse them. Just order replacement High Quality Bungee Cord from us to save a lot of money.
Replacement Bungee Cord Set
$5
FREE SHIPPING
Includes 4 High Quality Replacement Bungee Cords cut to the proper length.
(this set does not come with stakes or hooks)